Welcome to the top clothing optional beach in the United States, Haulover Beach!
Haulover Beach has been mentioned in many top 10 lists of the best nude beaches in the world by numerous travel publications, such as Trip Advisor, The Travel Channel, CBS News, and more. Visit our page, Haulover Beach in the News to read all about it!
The weather at Haulover Beach is almost always phenomenal, and there are a ton of hotels with in walking distance for you to stay at…
Haulover Beach Park contains one of south Florida's most beautiful clothing optional beaches–a 0.4 mile stretch of beach on the northern portion that draws people from all walks of life, from other states, Canada and a variety of other countries. Nestled between the Intercoastal Waterway and the Atlantic Ocean, it has pristine white sand shores, open ocean surf, various shaded picnic facilities, beautifully landscaped sand dunes, and concession stands. The beach is ideal for surfing as well as swimming.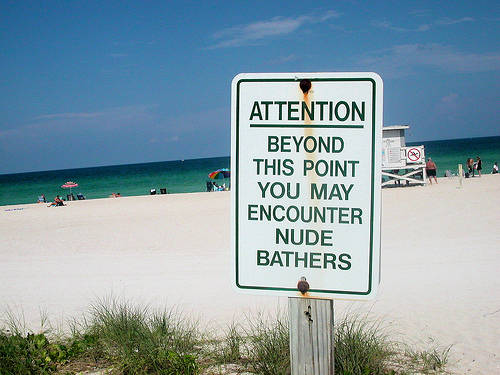 Thousands of people come to Haulover Beach on a sunny day. Simply put, Haulover Beach is one of the best clothing-optional beaches in the world, as ranked by many online and print publications. As many as 7,000 people visit the beach in a single day. Because clothing is optional, some visitors remained clothed.
Although Haulover Nude Beach is only a small portion of the larger Haulover Beach Park, approximately 66% to 85% of visitors use the nude beach area. Therefore, it is quite friendly to people who want to go nude. Haulover Nude Beach is situated between the Intercostal Waterway and the Atlantic Ocean and is part of Haulover Beach Park.
Are you a first-time visitor? Take a look at our First-Timer's Guide for some helpful hints before you go!
Additionally, don't be shy about visiting our Frequently Asked Questions page to ask all the questions that might be on your mind. Do you have a question that's not answered there? Don't be afraid to contact us and ask!
For up-to-the-minute news, to check in and meet other beachgoers, follow us on Twitter at: @HauloverBeachFL !